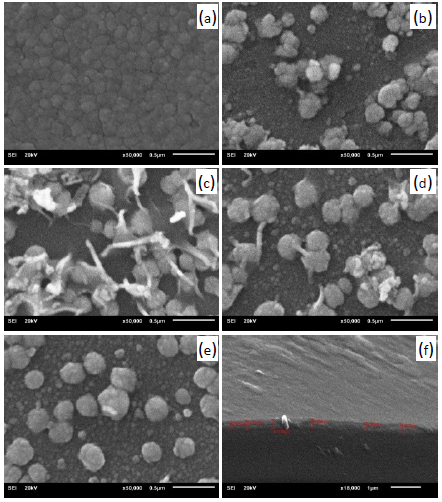 Exploration of impact of Cr-doping on physical and optical properties of CdS thin films in hybrid photovoltaic cells
Abstract
This paper searches for varying Cr-doping on both physical, optical properties of CdS thin films and their photovoltaic applications. CdS:Cr thin films with Cr atoms from 0 to 8% are produced by chemical bath deposition. X-ray diffraction conclusion shows that all samples grow in cubic structure and Cr-doping leads to formation of nanocrystalline CdS structure. Scanning electron microscopy data demonstrates that a reduction in grain size is obtained by Cr-doping. P3HT layer is almost uniformly coated on N3-modified CdS or CdS:Cr surfaces. 2% and 8% Cr-doped CdS thin films exhibit better transparency than that of CdS sample in the visible region. Band gap values increase from 2.98 eV to 3.36 eV when Cr-doping concentration alters from 0% to 4%, which could be probably due to the quantum confinement effect. Absorbance of CdS-based device decreases after Cr-doping. Photoluminescence curves illustrate that peak intensity increases upon Cr-doping that is ascribed to radiative recombination induced by Cr atoms. Photoluminescence data displays that Cr-doped CdS-based devices have higher peak intensity than that of CdS. It is obtained from photovoltaic measurements that CdS-based hybrid solar cell demonstrates a power conversion efficiency of 0.296%. 
References
A. Uddin, M. Wright. Organic-inorganic hybrid solar cells: A comparative review. Sol. Energy Mater. Sol. Cells 107 (2012) 87-111.
H. Cortina, C. Martínez-Alonso, M. Castillo-Ortega, H. Hu. Cellulose acetate fibers covered by CdS nanoparticles for hybrid solar cell applications. Mater. Sci. Eng. B 177 (2012) 1491-1496.
C.–F. Lin, E.–Z. Liang, S.–M. Shih, W.–F. Su. CdS nanoparticle light-emitting diode on Si. In: Proceedings of Light-Emitting Diodes: Research, Manufacturing, and Applications VI; San Jose, California, United States; 2002. pp. 4641.
R. Demir, S. Okur, M. Şeker. Electrical Characterization of CdS Nanoparticles for Humidity Sensing Applications. Ind. Eng. Chem. Res. 51(8) (2012) 3309-3313.
S. Yılmaz, A. Ünverdi, M. Tomakin, İ. Polat, E. Bacaksız. Surface modification of CBD-grown CdS thin films for hybrid solar cell applications. Optik 185 (2019) 256-263.
S. Yılmaz, M. Tomakin, A. Ünverdi, A. Aboghalon. A Study on Hydrothermal Grown CdS Nanospheres: Effects of Cd/S Molar Ratio. GU J. Sci. 32(4) (2019) 1271-1281.
F. Chen, H. Chen, X. Chen, X. Jiang, W. Qiu, M. Wang, L. Yang. Large-scale fabrication of CdS nanorod arrays on transparent conductive substrates from aqueous solutions. Sol. Energy 85 (2011) 2122-2129.
S. Yılmaz, İ. Polat, M. Tomakin, A. Ünverdi, E. Bacaksız. Enhanced efficiency of CdS/P3HT hybrid solar cells via interfacial modification. Turk. J. Phys. 43 (2019) 116-125.
M.C. Arenas, N. Mendoza, H. Cortina, M.E. Nicho, H. Hu. Influence of poly3-octylthiophene (P3OT) film thickness and preparation method on photovoltaic performance of hybrid ITO/CdS/P3OT/Au solar cells. Sol. Energy Mater. Sol. Cells 94 (2010) 29-33.
A. Nabi, Z. Akhtar, T. Iqbal, A. Ali, M. A. Javid. The electronic and magnetic properties of wurtzite Mn:CdS, Cr:CdS Mn:Cr:CdS: first principles calculations. J. Semicond. 38(7) (2017) 073001-073008.
D. Sharma, B. P. Malik, A. Gaur. Pulsed laser induced optical nonlinearities in undoped, copper doped and chromium doped CdS quantum dots. J. Opt. 17 (2015) 045502-045508.
M. Thambidurai, N. Muthukumarasamy, D. Velauthapillai, N. Murugan, J. Chaudhuri, S. Parameswaran, A. Marathe, S. Agilan, R. Balasundaraprabhu. Effect of Cr-doping on the structural and optical properties of CdS nanoparticles prepared by chemical precipitation method. J. Mater. Sci. Mater. Electron. 23 (2012) 618-624.
K.S. Kumar, A. Divya, P.S. Reddy. Synthesis and characterization of Cr doped CdS nanoparticles stabilized with polyvinylpyrrolidone. Appl. Surf. Sci. 257 (2011) 9515-9518.
P. Srivastava, P. Kumar, K. Singh. Room temperature ferromagnetism in magic-sized Cr-doped CdS diluted magnetic semiconducting quantum dots. J. Nanopart. Res. 13 (2011) 5077-5085.
S. Horoz, O. Sahin. Synthesis, characterizations and photovoltaic properties of Cr-doped CdS QDs. J. Mater. Sci. Mater. Electron. 28 (2017) 17784-17790.
Y. Ren, Z. Zhang, H. Hu, W. Liu. Solvothermal synthesis of Cr-doped MS(M=Zn, Cd) nanostructures with room-temperature ferromagnetic property. Physica E Low Dimens. Syst. Nanostruct. 114 (2019) 113643-113648.
Y.J. Kim, T.K. An, S.J. Oh, D.S. Chung, C.E. Park. Surface modification with MK-2 organic dye in a ZnO/P3HT hybrid solar cell: Impact on device performance. APL Mater. 2 (2014) 076108-076113.
S. Yılmaz, İ. Polat, M. A. Olgar, M. Tomakin, S. B. Töreli, E. Bacaksız. Physical properties of CdS:Ga thin films synthesized by spray pyrolysis technique. J. Mater. Sci. Mater. Electron. 28 (2017) 3191-3199.
A. Mercy, A.J. Anandhi, K.S. Murugesan, R. Jayavel, R. Kanagadurai, B.M. Boaz. Synthesis, structural and property studies of Ni doped cadmium sulphide quantum dots stabilized in DETA matrix. J. Alloys Compd. 593 (2014) 213-219.
B. Ahmed, A. Kumar Ojha, S. Kumar. One-pot synthesis of Ni doped CdS nanosheets for near infrared emission and excellent photocatalytic materials for degradation of MB dye under UV and sunlight irradiation. Spectrochim. Acta A 179 (2017) 144-154.
S. Yılmaz. The investigation of spray pyrolysis grown CdS thin films doped with flourine atoms. Appl. Surf. Sci. 357(A) (2015) 873-879.
S. Yılmaz, M. Parlak, Ş. Özcan, M. Altunbaş, E. McGlynn, E. Bacaksız. Structural, optical and magnetic properties of Cr doped ZnO microrods prepared by spray pyrolysis method. Appl. Surf. Sci. 257(22) (2011) 9293-9298.
T. Adhikari, U. Jabeen, J.–M. Nunzi, D. Pathak, S.M. Shah. Structural, optical and photovoltaic properties of P3HT and Mn-doped CdS quantum dots based bulk heterojunction hybrid layers. Opt. Mater. 78 (2018) 132-141.
Copyright (c) 2020 Turkish Journal of Materials
This work is licensed under a
Creative Commons Attribution-NonCommercial 4.0 International License
.
Indexing: